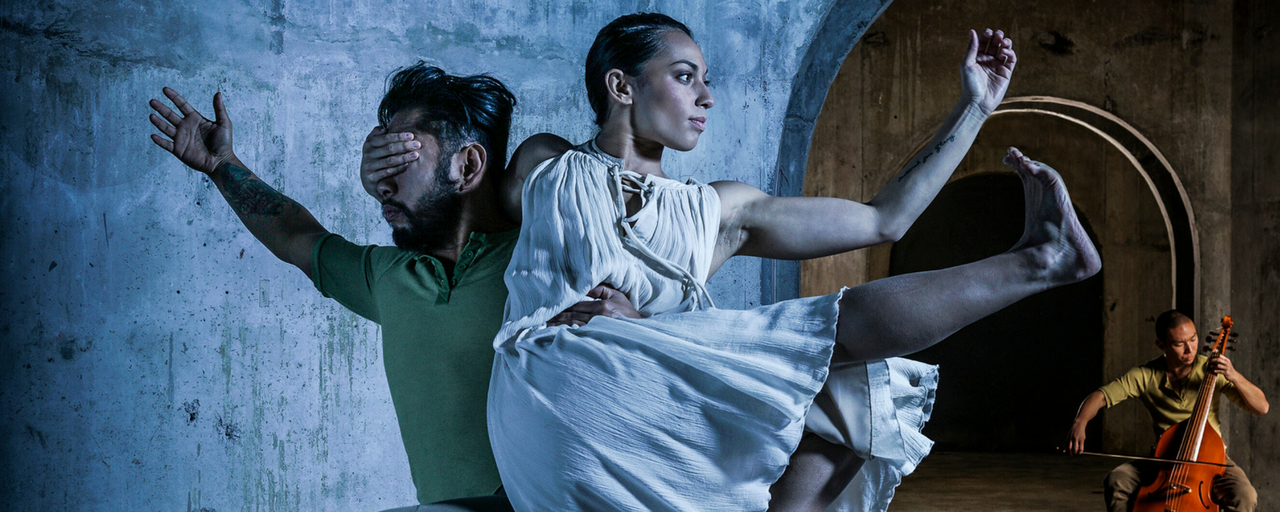 by Michael Parmenter
with The New Zealand Dance Company

One of New Zealand's most acclaimed choreographers, Michael Parmenter, returns with OrphEus - a dance opera, a bold new work with The New Zealand Dance Company.

Parmenter has drawn on a ravishing musical score, including Rameau and Charpentier, reflecting a period during which the ancient Greek hero invoked a harmonious cosmos and a hierarchical political order. Since then, Orpheus has come to represent art's power to transcend suffering and death.
In this richly layered, epic dance work Parmenter brings these contending perspectives into conflict and dialogue. OrphEus confronts the power of music and voice in both the personal and the political realms, revealing, in this familiar story of love and loss, the tensions between seduction and restraint, harmony and disorder.
Combining the power of dance, live music and theatre, Parmenter's incredible vision is brought to life by The New Zealand Dance Company, performing alongside Grammy Award-winning American tenor Aaron Sheehan, baroque ensemble Latitude 37 and special guests.
Through the lens of this mythic yet deeply personal tragedy, OrphEus thrillingly stages the eternal challenge of the artist - to seek the familiar or venture into dangerous uncharted territory.

EXTRA: Free Festival Talk –  Michael Parmenter's Orpheus: Re-configuring the human through dance
Sat 10 March 5.30pm
Taj Mahal Room, The Civic
Choreographer Michael Parmenter and dramaturg Keren Chiaroni talk about the ideas and process behind the choreography: Parmenter's philosophy, its outworking in the studio, and its realisation in the work. Exploring questions including: 
Where did this mythic/Orphic journey begin for you? What has it to do with us?  What is the vision that inspires this Orpheus? Why should we listen to the voice of Orpheus today? Now?


Click here to hear Michael Parmenter talk about OrphEus - a dance opera on RNZ Concert
Michael Parmenter talks to the New Zealand Herald  abut the creation of  OrphEus - a dance opera:  Click here  to read more 

If he wasn't a choreographer, what would be Michael Parmenter's career? An ethologist - find out more in the Stuff questionnaire here



Credits
NZDC Chief Executive and Artistic Director: Shona McCullagh
Producer: Behnaz Farzami
Choreographer: Michael Parmenter
Dramaturg: Keren Chiaroni
Set Designer: John Verryt
Costume Designer: Tracy Grant Lord
Lighting Designer: Nik Janiurek
AV and Sound Designer: David Downes
Music Advisor: Marc Taddei
Rehearsal Director: Claire O'Neil
Dancers: Carl Tolentino, Chrissy Kokiri, Katie Rudd, Sean MacDonald, Lucy Marinkovich, Eddie Elliot, Bree Timms, Toa Paranihi, Oliver Caruthers
Voices: Aaron Sheehan, Nicholas Tolputt, Jayne Tankersley & William King
Musicians: Latitude 37 with Mary Grace (Polly) Sussex, Miranda Hutton, Sally Tibbles, Jonathan Le Cocq
Co-produced by





Michael Parmenter''s name is synonymous with bold and innovative contemporary dance… challenging, thought-provoking and fulfilling.

— The Press