Bruce Mason Centre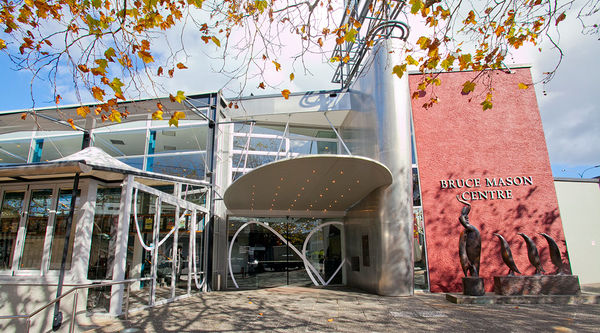 Bruce Mason Centre is named after one of New Zealand's greatest playwrights Bruce Mason. Bruce was best known for a classic Kiwi play called 'The End of the Golden Weather'. You can see memorabilia from his life on site, including his desk and typewriter


VENUE DETAILS
The Promenade, Takapuna, Takapuna Beach
+64 9 488 2940
Hours: Box Office is open 9.00am - 5.00pm, Monday to Friday, and 2 hours before performances.
eMail (click)
Website (click)
Facebook (click)
Instagram (click)
Twitter (click)
GETTING THERE
Auckland is very compact, which makes it ideal to explore on foot or by bicycle. The Bruce Mason Centre is situated on the North Shore however, which can not be accessed on foot or by bike. See below for information about getting to the venue. If you are looking for general advice on travelling within and to Auckland, visit  Auckland Transport



Closest bus stop is  Hurstmere Rd which goes through Milford and further north. The main Bus Stop is in Lake Rd outside Burger King and across the road outside Shore City Mall. From here buses go to Auckland City, Devonport, and other parts of the North Shore. It's a 10 min walk away.

The two closest  car parks to the theatre are operated by Wilson Parking and are located at 2-8 Killarney Street, and 148 Hurstmere Road, Takapuna



Closest car parking with accessible bays are next to the Bruce Mason in the Killarney Street. There are six spaces available.

There is no taxi rank but when a patron or Staff calls for a taxi, it stops outside the main doors in The Promenade.

There are no trains on the North Shore.


VENUE ACCESSIBILITY


There are multiple levels and lift access to all levels
 


There level access to the stalls and bar, but no level access to the circle

Wheelchairs spaces are available are in the stalls – Row Q/ seats 1-4 and seats 42-45. From 2018 they will be in Row T/ seats 2-6 and 42-46.

A wheelchair accessible toilet is located on the street level not far from the front doors/box office

Assistance dogs are welcome to enter the auditorium at Bruce Mason Centre.